We have had a very productive garden this year
but it is slowly coming to an end.
This is all there was a few weeks ago.
I had to come up with something to use lots of pumpkin in.
Hmmmm
Chocolate and pumpkin muffins sound so good.
I sliced the pumpkin in half and scooped out all the inside.
Baked at 350 in a roasting pan for 1 hour of until tender
Cut the rinds off and pureed.
This very easy work, I did it all while talking on the phone to my friend
Lisa
.
Just in case you were wondering what I do while I cook.
Then I bagged it up in 2 cup bags and froze, to bake with all year long
After all that was done
I got busy making the muffins
Ingredients:
2 cups pureed pumpkin (canned is fine)
3 eggs
2 cups sugar
3/4 cup cooking oil
2 cups all-purpose flour
2/3 cup unsweetened cocoa powder
3/4 cup semi-sweet chocolate chip
3T cinnamon
1t salt
1/2t baking powder
1t baking soda
Mix and scoop into a muffin tin, bake a 350 for 20 min or until done
in the middle. Enjoy
Yes, Kellie and I know we are posting the same thing.
Great minds think alike.
We did not plan it but are not surprised.
We seem to think alike.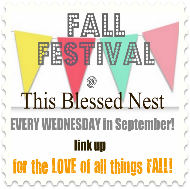 linking here