Good Morning!
Hope you will hang with me during this rambling post.
I have been a very bad blogger lately (pretend you are shocked).
Life has been very, very, very ,very, very, very, very, very busy (I just made all the English geeks crazy with my use of very, but the point needed to be made).
This has happened before.....
but this time is different!
I let others down and I am feeling like scum
Amy is hosting the coolest party at her blog called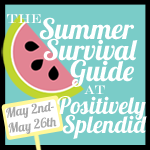 Well guess what?
I wrote the worst post ever for her, in a hurry and last minute before running out the door to go out of town a few weekends ago.
Amy being the sweet thing she is cleaned it up and made me look good (you can read it
here
).
Thank You Amy, and again I am sorry.
I am sorry to you lovelies also, for not telling you sooner about her cool party. It is still going on, so skip over and be inspired!
Wouldn't it be nice if it stopped here?!
But when I mess up
I do it
Next I let down a whole list of people.
I will start with the story and then give you the entire list of apologies.
Last week, at least I think it was last week (the last 4 are a blur)
Gina @ The Shabby Chic Cottage
,

Lisa @ The Pennington Point

and I were on a conference call (BTW I was the one who figured out how to conference call, GO ME). We were brainstorming about blog ideas and that is when it happened!
Are you asking what is
IT
?
Well it is the biggest, best and most exciting blog adventure I have ever heard of much less been involved in!
We and
Polly @ Make Mine Beautiful
and
Angie @ The Country Chic Cottage
are going to have a DIY weekend at Gina's Cottage. We will be making over her two girls rooms top to bottom in one weekend, but wait it gets even cooler................
You can join us!
It is going to be a blast...
lots of decorating fun and some silliness during late night talks and early morning coffee gatherings. And if you know me even a little
you know that there will be out takes, because I am a spaz!
If you want to join us write a quick post about why we should pick you and link it
here
.
Your airfare or gas will be paid for along with all food and lodging, plus you will get an awesome swag bag full of fun goodies.
So hurry and link up, I am waiting to meet you!
So now to the apologies.
1. You, sorry I didn't let you know last week
2. Gina, Lisa, Angie, Polly sorry I didn't scream from the roof tops about how excited I am for this.
This next apology makes me sad!
Friday was homeschool day at
Six Flags
and I was so excited that I as going to get to meet up with
Alicia from Confessions of a Snowflake
. I met her at Blissdom and have been blessed to follow her since. Her heart speaks to mine. Well I messed it up......GRRRR!
I have a new phone and the battery doesn't last as long as my old one, needless to say the battery DIED!
I wasted what little (I didn't know it was only a little at the time) battery life I had left to tweet my flip flop blow out picture. I tried to be funny and missed something important to me, do things like this ever happen to other people. I looked for her all day but never saw her, I was and am sad. I am sorry Alicia, there will be a next time.
Finally, I want to apologize to everyone waiting for me to return your email, I am slowly getting my inbox worked down. I will get to
YOURS
I promise give me just a few more days.
P.S. To everyone in my real life I am sorry also!
P.S.S. Dear Hubby, sorry the house has been a wreck and food has been scarce, I good news is you can come home to a clean (well cleaner) house tonight, a home cooked meal and I remembered to pay the mortgage today so they will let us continue to live in our DIY project, haha. I love you and thank you for supporting me!