I am starting this Sentimental Sunday post with tears in my eyes. Yesterday I watched one of my girls get married, no not one of my daughters but the next best thing.
She was a stringy 12 year old when she first bounced into our lives in the form of a mommies helper, the first we had ever had. Hubby and I will never forget her telling us this line
"Most people don't like me because I talk to much, so if I get on your nerves you can tell me to be quiet"
She stole our hearts in that moment.
Later, I had the honor of being her youth leader for many years and she drove me crazy (talking), made me laugh, encouraged me when I didn't feel like a good teacher, and trusted me as her friend. I have loved watching God move in her life and watching her learn to trust God has blessed me.
She went on to babysit many more times through the years and my daughters love her and think that her purpose in life is for their entertainment. She loves kids - all kids. She is who I turned my Sunday School class over to when we switched churches. Then this pasted May she graduated with a degree in education-she finished it in three years. God has placed a special calling on her life to work with children and I love to watch her thrive in that calling. The amazing thing is He has given her a partner in life who has a gift with children also. Whenever they walk into a room children swarm to them.
Okay so I am not going to tell you I liked "that boy" from the beginning or that I didn't sit him down for a "talking to", but let's face it I wasn't going to immediately like anyone who tried to date her. But he won me over and today I really like him.
I am so happy for them and I can't wait to see what God has in store for their life.
So today I want to tell them both how proud I am of them and how much I love them.
And let me be the first to ask........When am I going to get to hold your babies, ha?
So what are you sentimental about this week?
Grab the button below and link up.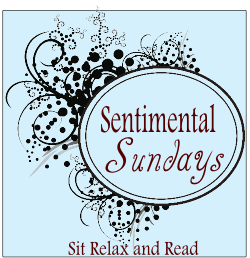 Remember to enter my
giveaway
for a signed copy of Girls World.