Welcome to Sentimental Sunday, my favorite day of the week. The day we all gather together and share what we are sentimental about. It can be anything from an item in your home passed down by a special someone or just a few sweet words about something that has touched your heart this week, the goal is to take a moment and reflect.
This week I am sentimental about living out your dreams.
Have you ever been afraid of your dream? You know the one I am talking about....the one that seems bigger than life. The dream that most people listen to and then explain how you need a back up plan. The God sized dream! This week I got to watch two beautiful people live out their dream, I worked behind the scenes helping on the HGTV pilot for
The Lettered Cottage
.
-Squeal-
I know, if you have been living under a rock and do not know who they are do yourself a favor and go get lost on their blog, right after you finish here of course.
I am so thankful that they were brave enough to go for their dream. Because of their bravery, I got to live out a dream of mine. For years, I have sat in front of the TV and said I can do that while watching HGTV and this week I got to DO THAT. I have never had any desire to be in front of the camera but I love working on projects and have always thought it would be cool to be a part of a show. This week, while living out that dream, I could not help but ponder thoughts about each of us having the courage to live out our dreams and who that would in turn allow to live out theirs. The grandness of it all is mind blowing. I love when you can step back and see Gods hand at work and how he had a plan for this moment years before (who am I kidding forever before) now. Layla even found comfort in this blazer (her Grandfather had one like it, but that is her story to tell) that has been my husbands dream and project for years.
Because of him following his passion and dream he got to be apart of their special day on several levels also. So go follow your dream.
The one BIGGER than you have the courage for, the one that requires faith that can move mountains.
God will meet you there and you will not be sorry.
Who knows you might even get to be as silly as the four of us goofing around.
So what are you sentimental about this week?
Grab the button below and link up.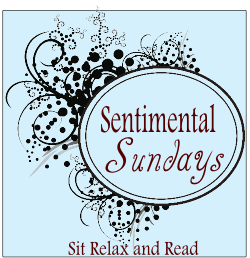 PS. after what has been a crazy busy week I am taking a one week break from all things electronic, we will catch up next week. Okay?